Main content starts here, tab to start navigating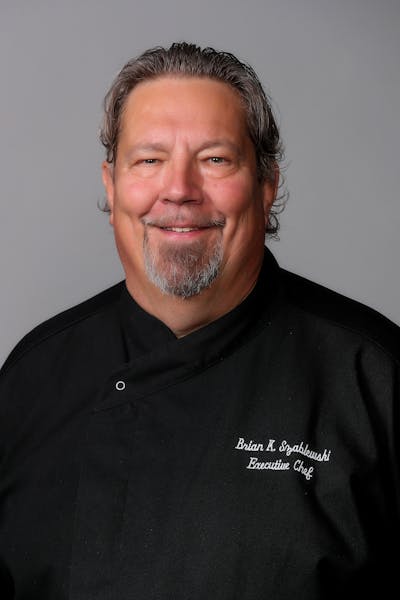 Brian Szablewski
Executive Chef
Born in Milwaukee, Wisconsin, Brian has spent most of his life involved in creating great dishes and enticing people to enjoy food.
After graduating from High School, Brian began his culinary food career by attending culinary school and soon trained under internationally known Chef Paul Albrecht @ Panos' & Pauls Restaurant in Atlanta, Georgia, who opened Maxim's in Paris. There he worked his way up to Sous Chef and fed Brett Favre who had been signed with the Atlanta Falcons.
He later returned to Milwaukee to reunite with family members and worked at the MECCA in downtown district for a time. That is where Brian began his experience of serving large numbers of people for conventions and festivals. His experience brought him to The Saddle Brook Country Club in Tampa, FL. There, he had the pleasure of meeting and providing exceptional meals for Pete Sampras & Jim Courier.
Brian, who has always prided himself on learning new food creations and creating some of his own, loves to collect menus from restaurants and has a vast collection.
His career took him back to the Ozaukee Country Club near Milwaukee, where he again served Brett Favre, but this time as a Green Bay Packer. He then started culinary food service with University of Oshkosh-Wisconsin before transferring with his company to take over the food service at Minot State University.
It was in Minot that Brian began an additional love of his career as he formed a bond with many of his co-workers and citizens of Minot. To this day, he still has students from 20 years ago comment on how much they loved his additions to the food menus and creative changes made during his tenure.
While working for MSU, Brian was offered the change to be the Chef at River Falls University in Wisconsin for the Kansas City Chiefs Spring Training Camp. It was his opportunity to meet and rub elbows with some of the best football players in the NFL, as he is a dedicated "owner" of the Green Bay Packers. At the camp, Brian met and socialized with many of the players and coaches from KC but also the teams they scrimmaged with. Randy Moss and Cris Carter, of the Vikings, among them.
During this time, Brian gave of his time & culinary expertise in feeding the celebrities and entertainers at HostFest for 12 years. He was honored to have served a gourmet meal to Clint Hill, who provided Secret Service detail to John F. Kennedy the day the President was shot.
After losing his own restaurant to the flood of 2011, he worked in other various positions outside of food service before finding his coups de grace as Executive Chef for The Grand Hotel in January of this year. Along with his extensive experience, he has provided the Hotel with many different and exciting changes to the Primo menu and banquet food services.
Over his career, Brian has fed three presidents and many Hollywood celebrities and dignitaries but appreciates the general public all the more when they compliment his food.